Why use NiftyQuoter + Xero
Import your contacts from Xero to NiftyQuoter and send them beautiful business proposals. Then export those proposals as invoices back to Xero.
Please note that it does not import products from Xero.
Import clients
Integration with Xero allows you to easily import all your contacts from Xero to NiftyQuoter with one click of a mouse.
Export proposals & clients
You can export proposals from NiftyQuoter to Xero as invoices with one click. Contacts in Xero will be created automatically if needed as well.
More about NiftyQuoter
NiftyQuoter is a business proposal software for freelancers and small businesses.
Saves your time - Creating and managing proposals by NiftyQuoter online proposal software can easily save you 50% of your time.
Beautiful customizable templates - NiftyQuoter online proposal software comes with gorgeous professional looking customizable themes.
Easier communication with clients - Send proposals to your customers via NiftyQuoter. Clients can easily approve, reject or discuss your proposals.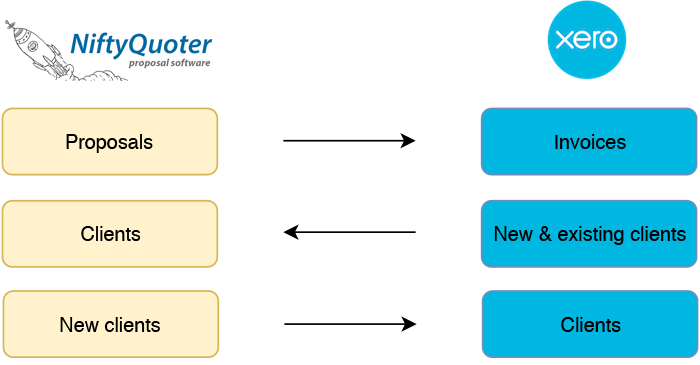 More about how NiftyQuoter and Xero integrate
NiftyQuoter can import all your contacts from Xero with one click of a mouse.
Then you can create business proposals for these clients. Once a proposal is approved you can export it to Xero as an invoice.
When exporting invoices to new contacts it will also export a new contact to Xero.
About Xero
Xero is world-leading online accounting software built for small business.
Get a real-time view of your cashflow. Log in anytime, anywhere on your Mac, PC, tablet or phone to get a real-time view of your cash flow. It's small business accounting software that's simple, smart and occasionally magical.
Run your business on the go. Use our mobile app to reconcile, send invoices, or create expense claims - from anywhere.
Get paid faster with online invoicing. Send online invoices to your customers - and get updated when they're opened.
Reconcile in seconds. Xero imports and categorises your latest bank transactions. Just click ok to reconcile.